Enjoy fall on a healthier note!
Fall has arrived, and that means football season is in full swing! You may be wondering how to prepare snacks that pack a nutritional punch – and that you and your family will actually enjoy! So, as you plan for football parties, tailgating and feeding your own hungry superstars this season, don't forget the chips and dip!
Start smart: Pick the right chips!
Fritos Scoops! corn chips and Tostitos Scoops! tortilla chips are not only perfect for dipping, but they're made with just three simple ingredients – corn, healthier oils such as corn oil, and salt! And if you're looking for an easy way to add whole grains, Tostitos Scoops! now has 8 grams of whole grains per serving!
Dig in to nutrition with dip!
Chips, like Fritos Scoops! and Tostitos Scoops!, are the perfect vehicles to add more nutrition to your gameday snacks when you pair them with delicious and healthier dips – like Sabra hummus, fresh salsa and veggie dip. Lately, we're loving the food and recipe blog, Nutritioulicious – check it out for more healthy dip ideas.


Are you ready for some football? Here's your chance to score!
From now until 11/17/10, we're giving away 5 tailgating kits, which include a football-shaped chip and dip bowl and a coupon for a free bag of chips! Talk about an easy start to planning your game day snacks!
To enter, just respond to this email and tell us which Frito-Lay chip is your favorite for tailgating – and why!
If you'd like a second chance to win, you can also Tweet to us (@FritoLay) with your favorite Frito-Lay chip for tailgating (and don't forget why!), using the hashtag, #fritofan.
See official rules.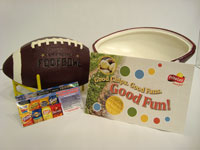 Video series:
An inside look at Frito-Lay!
Check out the first two videos in our series taking you behind-the-scenes at Frito-Lay. From our Culinary Innovation Center where our team of chefs develop new flavors to the aisles of a grocery store stocked with your favorite Frito-Lay chips, learn more about what's in our snacks and how we create new flavors!
Enjoy the show!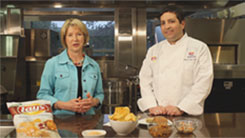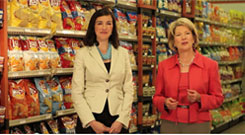 The latest and greatest in Frito-Lay chips!
Have you tried our Lay's Regional Flavors yet?
Launched this year, not only do these six new flavors represent the best in regional cuisine, but they're made with all-natural ingredients. Find out more on our Snack Chat blog!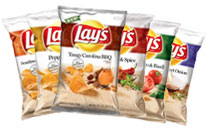 Watching your sodium intake? Check out Frito-Lay's Lightly Salted Line!

We now offer Lightly Salted varieties of Lay's potato chips, Fritos corn chips and Rold Gold pretzels.
*Rold Gold Lightly Salted only available in select markets.